Learn More about Villa Piano: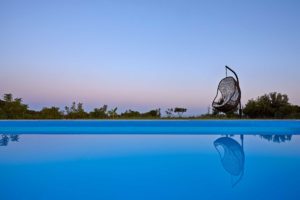 Bio-climatic Design
Built accordingly to the latest bioclimatic architecture principles, villa piano is standing on top of a green kefalonian cape, 10 to 15 minutes' walk away from the town of Skala.
Designed and built in 2016, in a certified ecological manner, it is located just a few breaths from the turquoise waters of the Ionian Sea.
Villa Piano is a modern residence of high aesthetics and beauty, built with natural raw & building materials.
Earthy & soft colors blending in harmony with the natural canvas along with big openings on the walls that allows to admire the beautiful scenery from the comfort of your bed.
Villa Piano is Guaranteed to offer you some of the most peaceful & serene holidays you've ever had.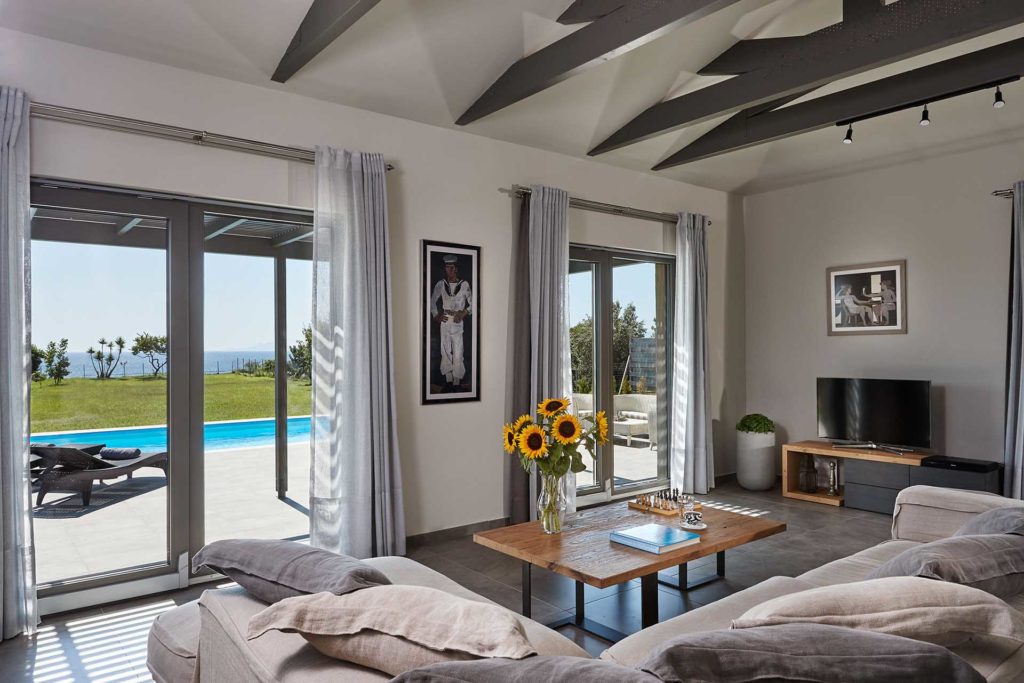 Comfort & Luxury
The Villa is built on a 5000m2 of green landscape in front of the Ionian Sea, offering total privacy & calmness.
Minimalistic but impressive architecture design blends in perfectly with the natural landscape.
On the inside everything is chosen without compromises.
We care personally for every little detail to make sure that even the most experienced and demanding traveller leaves Villa Piano satisfied and rejuvenated.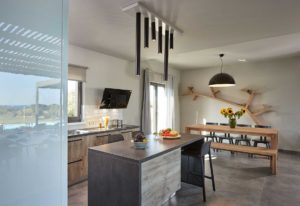 By entering the main entrance you 'll fall in love with the bright and spacious interiors of the villa. On the living room big openings see stunning views to the Ionian Sea and pendant wooden beams, are in perfect harmony with the natural building materials and the wooden art décor.
Softened comfortable sofas stuffed with feathers will offer you a great sense of rest & relaxation.
The big wooden table on the right side of the dining area is an artifact of great design offering panoramic Sea, mountain and garden views.
Along with the table there is an armchair, a wooden bench and 4 chairs which comfortably serve more than 6 people.
On the left side there's the fully-equipped, italian kitchen of the highest quality.
After the kitchen, we enter the "sleeping zone". There's one bedroom with "en suite" bathroom and two more bedrooms sharing another big bathroom. The west patio is surrounded with trees and flowers and is the ideal place to read or relax, especially in the hot summer mornings under the sunny Greek sky. The east patio has the big ecological swimming pool which is chemical & chlorine Free surrounded by a 2000m2 area of green landscape.
For even more privacy when you're hanging outside, the villa also has a protected patio with views to the pool and sea
Facilities & Services
---
Bedroom & Bathroom Amenities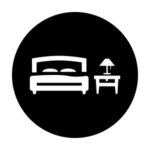 3 luxurious Bedrooms
2 Bedrooms with King size bed & 1 bedroom with 2 Single beds able to joined together into a king sized bed
Supreme quality of mattresses & linen
Air Condition
Wardrobe
Hair Drier
Natural products of personal hygiene
Pool Towels
Veranda with view
---
2 Bathrooms
Bathroom 1 (private, en suite)– Wc and shower
Bathroom 2 (bigger, shared) – Wc and shower
---
Living room Amenities
Food Table for 10 persons
Hi-Fi soundsystem
CD Collection
Flat Screen Tv 42" SMART TV, with USB
DVD player
DVD Collection
---
Kitchen amenities
Electric Kitchen with oven
Refrigerator with Freezer
Microwave Oven
Dishwasher
Toast machines
Mixer
Kitchen Scale
Espresso Machine "Tassimo"
Filter Coffee machine
Water Boiler
Children's sit
---
 
Entertainment
Flat-screen TV
Cable channels
DVD/CD player
---
Outside
Great sea views
Patio with dining table for 8 guests
Pool area with sunbeds, umbrellas & hammock
Exterior Eco-Shower with hot water
Colorful garden with vineyard and fruit trees
BBQ
The property is located above the secluded Spithi beach that can be reached -due to height difference- by following a 10min walking trail. Likewise on the other side of the property you can reach the popular beach of Skala
---
 
Cleaning Service
Maid Service: Twice a week (or earlier upon request)
Linen Change: Twice a week
---
General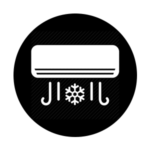 Perimetric fence for privacy & security
Ecological Private pool (4.5m X 8.4m) without chemical chlorine
Sunbeds
Panoramic sea & mountain views
2 Dining tables, one outside for summer delights
BBQ
Fruit Trees at guest's disposal
Silent air condition (heat/chill) in every bedroom
Wireless internet access without extra charges
Satellite TV
Fire Protection
Safebox
First-Aid Kit
Private Parking
Central Main Gate
---
Services
Anastasia or Tasos meets you when you arrive at the villa.
We welcome you with a basket of kefalonian products according to the tradition.
You 'll get to know everything that the island has to offer in sightseeings, historical monuments, fantastic spots to take pictures, local product suggestions as well as hikes and tours.
Villa cleaning 2 times a week
Change all linen 2 times a week
Good Wifi access everywhere at the villa
Services with extra charge
Transportation from / to the kefalonian airport (EFL)
Daily cleaning
Food delivery with traditional Kefalonian cuisine
Purchase and deliver groceries at the villa prior to your arrival
Professional cloath cleaning – ironing
Car rental
Bike rental
Organization of small events
Terms & Conditions
---
Policies:
Changeover days are flexible
Check in time:  from 14.00 pm
check out: until 10.00 am
In order to guarantee your reservation a non-refundable deposit of 30% is required by bank transfer. Balance to be paid either prior your arrival (by bank transfer) or on your arrival day (in cash).
A refundable damage deposit is required in cash upon arrival and is returned in full upon departure after inspecting the property, if no damage is found.
Smoking is not allowed in Villa Piano
---
Great luxury Villa with high spec and everything you could need Quiet location but bars and restaurants a 10 minute walk away in Skala Attentive hosts who really wanted our stay to be a memorable one.
from United Kingdom
Reviewed  29 October 2017 
---
Travelled from rainy UK to glorious sunny Greek weather and this place was the best thing we could possibly get. Villa piano is absolutely gorgeous! We went for family holidays and could not fail in anything! Extremely spacious place, spotless from inside out; the outside area provides ideal conditions to sit comfortably at any time of the day or evening while we thoroughly enjoyed the fresh fruits around the villa as well as the swimming private pool which was cleaned every other day. This was a family business and both owners and staff went above and beyond to help us with everything. Needless to say that we felt sooo welcomed and deffo coming back next year. The whole experience was such a bliss while all the extra touches made it exceptional in every single aspect. Worth every penny spent. Thank you everyone for making our holidays so special 🙂
from Bournemouth, United Kingdom
Reviewed  21 September 2017 for a stay in September 2017
---
Villa Piano is a very nice modern vila, tastefully decorated and has everything you need for a fantastic holiday. The villa is very well equipped both inside and out. Bedrooms and bathrooms are modern with comfy beds, nice bedding and towels. Kitchen and living areas are equally well appointed and give out into patio and pool and lovely sea views. Hard to fault the place and overall exceeded expectations.
Guy R.
Reviewed 3 September 2017 for a stay in August 2017
---
We stayed at Villa Piano for celebration of my birthday with husband daughter son in law and friends From the time we arrived we knew this was going to be a special place. Villa was amazing so beautifully designed. Every thing you could wish for even down to wonderful monogrammed linen. Has the most beautiful views so quiet and peaceful. A pleasant 15 minute walk into Skala. With plenty of restaurants and bars to choose from. The owners will be there to welcome you and nothing was too much for them to make our stay perfect.
Essex, United Kingdom
Reviewed 28 August 2017 for a stay in June 2017
---
The villa is accessed from the main road into Skala down a rural road which leads to this amazing beach front villa.
The property is accessed through a large, secure gate and has ample enclosed space to the front and back of the property with plenty of parking space.
The single story villa leads out to a huge patio area and pool with huge lawns abundant with fruit and olive trees down to the cliff overlooking the stunning, secluded beach.
The pool depths are clearly marked with easy pool access, a must for those with young families.
The outside area has been well thought out and accommodates families or couples alike.
Plenty of outdoor space to potter and explore.
Inside, you can luxuriate in the white hues and beautiful, unique furnishings.
The villa is extremely well equipped. Normally there is always that little something missing when you are away, not here. You'll be torn between staying at the villa and pool and exploring the stunning coastline that Kefalonia has to offer.
The only sound you'll hear is cicadas humming in the olive trees and the passing boats at the bottom of the villa.
A ten minute walk will take you to the secluded beach at the bottom of the villa and a ten minute walk in the other direction will lead you into Skala town.The wonderful owner Anastasia was there to welcome us and gave us lots of tips on local places and eateries etc.
She even provided our young son with some fabulous books and games! Book now, you will not be disappointed at Villa Piano.
from Oxfordshire, United Kingdom
Reviewed 26 August 2017 for a stay in August 2017
---
We stayed in the villa last summer and i think we were one of the first to hire it. The accommodation was modern, uncluttered, clean in a very relaxing setting. It has everything you would need. We did hire a car – and I think you could possibly cope without one but if it's uber hot it's not much fun walking in to skala in the searing heat, so i would definitely recommend getting a car so you can go and investigate this beautiful island. We did a few trips out – we visited the Melissani Cave and went to Myrtos Beach, but our main objective was to laze around the pool for a couple of weeks so that's what we did! We mainly ate in Skala as there are so many amazing restaurants to go to – our favourite was Mikelatos Family, but also the Sunrise Fish Restaurant and the kids hauled us in to the Sugar and Lemon pancake house every evening which did great crepes and coffees. We also visited Sami, which is close by and has a harbour and is lovely. Villa Violin was amazing and the owner Tasia is so so lovely and makes you feel completely at home. She was so kind and came round loaded with homemade ice cream, fresh fish and bread and wine. One day she even bought us an amazing home cooked lunch of stuffed vegetables. Completely unexpected but it these things that make you want to return. It worth mentioning that the pool areas are completely private and there is also a huge grassed area beyond the pool and then you look down onto a beach that is private. Its beautiful on that beach but it wasn't easy to access when we visited, ideally the owners will create a path from the bottom of the garden onto the beach. At the moment you have to walk past a nearby farm to get on to it, which isn't difficult but it's not as close as it looks on googlemaps. We hire villas every year and our children have said this one is the best so far! If we visit the island again we would go back to it.
Simon T.
Reviewed 23 June 2017 for a stay in July 2016
---
A fantastic property, 40 mins transfer by taxi from Kefalonia airport. The villa is outstanding, location amazing and owner a joy to spend time with. The villa has a 'secret beach' only a few minutes walk away (you can see it from the end of the garden) and is only an 11 minute wander (with a 7 year old) to Skala beachfront through the fields. The villa is very modern, will sleep 6 easily and has fantastic outside space, pool and eating area. It was great. Spent some time with Tasia and her family next door at Villa Violin when they visited for a few days. Tasia gave us a couple of bottles of wine made from the vines in the garden as a welcome gift – great with meat. Very happy to recommend – absolutely beautiful. Car NOT necessary- we hired locally for 3 days so explore the island but generally used a local taxi firm who recommended beaches, restaurants and places to visit.
Ratty-and-Mole
Wirral, United Kingdom
Reviewed 18 September 2016 for a stay in August 2016
---
This villa is simply gorgeous and very spacious with a large open plan, very well equipped living/kitchen area, 3 luxurious double bedrooms, 1 ensuite and 1 family bathroom. It was spotless when we arrived and half way through the holiday the villa was cleaned again and all bed linen and towels changed. Outside, the pool and pool area area are fantastic and a large garden leads to the coast, providing excellent views. A really peaceful location but conveniently located a 10 mins drive from Scala with its beautiful beach and wide array of excellent restaurants and shops.
John H
Reviewed 29 July 2016 for a stay in July 2016
---
What a wonderful property, location, setting, facilities and owners! If we could award 6 stars, we would. Welcomed upon arrival by Tasia (owner) who kindly took us into Scala for a stock-up-shop and later brought us two bottles of her own wine made from the vines at Villa Piano and it's sister property, Villa Violin. You are only 11 minutes walk across the fields from Scala beach and 7 minutes walk from the 'secret beach' you can see from the end of the garden. Everything about this property is top quality. It will comfortably sleep 6, there is great outside space and it is peaceful and quiet. Only 40 minute transfer by taxi from the airport (50-55 euros). Car NOT essential but we hired a Suzuki Jimny in resort for 35 euros per day for 3 days, mid-break to explore. Great fish restaurant Nautilus a 10 minute / 10 euro taxi ride away, fab local restaurants and NO 'pint for 1 euro' bars – all family based. Brilliant, brilliant, brilliant.
Nick K. from UK
Reviewed 18 September 2016 for a stay in August 2016
Get a quote for Villa Piano
Choose the days you 're interested in visiting Kefalonia
and request your quote today!
Please Make sure you filled in the correct email in order to contact you back!